Cheap Mealboxes A Taste Of Hong Kong's Economic Woes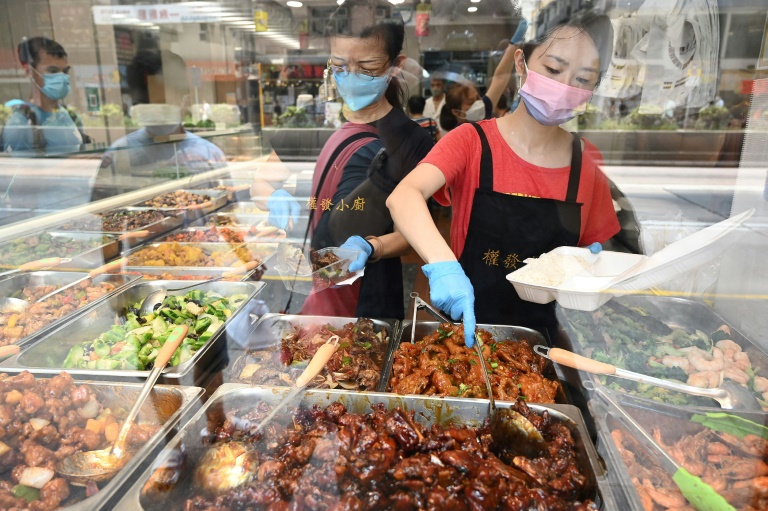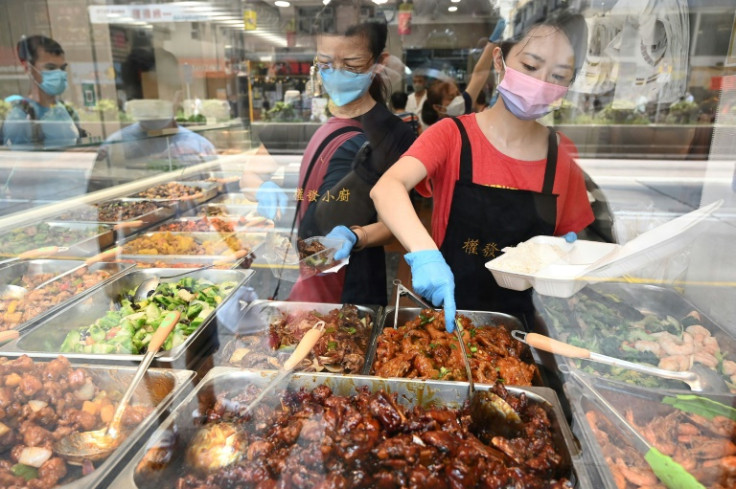 Hong Kong native Kitty Chan turned to takeout to help her restaurant weather the pandemic, but has since opened a second store amid a surge in demand for cheap meal kits in the struggling city.
Small shops selling cheap two-plate lunch boxes have sprung up in one of the world's most unaffordable cities, in both working-class and white-collar areas as people tighten their belts.
"The Covid restrictions are the catalyst," she told AFP at her restaurant in Kowloon, one of the world's most densely populated urban areas, where rows of hungry customers meander down the street.
"There are multiple factors in this city that make us a kitchen for many people."
Hong Kong's economy took a hit in 2019, as months of pro-democracy protests kept tourists away and sent the city into a prolonged recession.
More than 2.5 years of strict Covid control has pushed the Asian financial center into negative territory again.
Hong Kong's financial secretary, Paul Chan, warned on Thursday that there was a "high possibility" that Hong Kong would slip into a full-blown recession by the end of this year, while the fiscal deficit was expected to balloon to HK$100 billion ($12.7 billion), double the initial estimate.
Andy Kwan, director of the think-tank at the ACE Center for Business and Economic Research, said the craze for meal boxes was "similar to the emergence of dollar stores during the (2008) financial crisis."
"When the economy is bad and confidence is low, people tend to spend less," he told AFP.
Chan's restaurant sells 2,000 to 3,000 meal boxes a day for about HK$48 (US$6).
Lunch boxes range in price from HK$25 to HK$80, depending on the ingredients and store location, and many also include a drink or soup.
To compete in what is now a crowded market, Chan tries to offer the kind of food you can get at a sit-in restaurant — mostly stir-fried Cantonese dishes like black pepper beef spare ribs, steamed fish and razor clams.
Her strategy appeals to most white-collar clients.
"Two plates of lunch boxes are a very interesting entry point into our economy," said Fred Ku, an economist at the Chinese University of Hong Kong.
While two-course restaurants have long been a feature of the city, "consumers' perceptions have changed, and these lunch boxes are no longer a symbol of relatively low income," Gu said.
China and Hong Kong have largely shrugged off the runaway inflation seen around the world.
But food in particular has become more expensive — Chan estimates her grocery purchases have increased by about 20 percent this year.
Lunchbox restaurants are also popular with Hong Kongers who refuse to vaccinate themselves against Covid-19.
The city uses a QR code system to deny unvaccinated people access to most public places.
Retiree Grace, who gave only her name, described herself as "a rejected person" because she was only vaccinated once.
"At first I thought why not try (meal boxes) because I have to take out," the 68-year-old told AFP. "But now I find it appealing … it feels like eating a buffet."
A Facebook group started by social worker Andrew Wong to share mealbox restaurant tips has grown to 87,000 members.
"When I opened the group at the end of 2021, we found 110 to 120 of these restaurants, and by 2022 we've found 150 brand new restaurants," he told AFP.
Another crowdsourced map lists more than 440 two-course restaurants across Hong Kong, up from about 330 in May.
Huang said the boom had been driven by Covid restrictions and a drop in tourist numbers over the past three years.
Before the protests and the pandemic, Hong Kong would receive about 65 million tourists a year, 78 percent of them from mainland China.
That has slowed to a trickle, with the Chinese border effectively closed and international arrivals still facing mandatory hotel quarantines on arrival.
City leader John Lee has vowed to reopen the city and hinted at further Covid easing in the coming weeks.
But Hong Kong's international access still lags far behind rivals such as Singapore, London and Tokyo.
"People want to know if there are any policies that can stabilize the economy and whether the government is aggressive enough to bring about change," said Guan, director of the think tank.
"At the same time, people are cutting their day-to-day expenses so they can spend more in the worst-case scenario."