Cambodia court rejects appeal by Khmer Rouge leader Khieu Samphan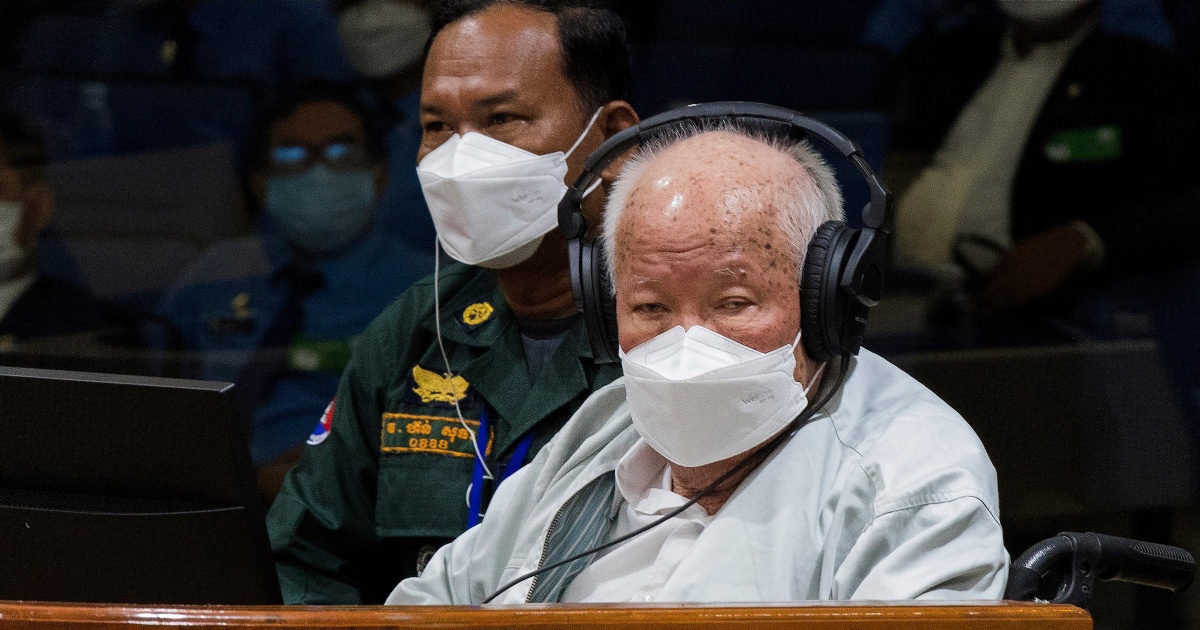 PHNOM PENH, Cambodia — An international tribunal convened in Cambodia to rule on the atrocities of the Khmer Rouge regime that killed some 1.7 million people in the 1970s. It ended work on Thursday after spending $337 million and 16 years to convict just three men.
At its final upcoming session, the UN-assisted tribunal rejected an appeal by Cho Samphan, the last surviving leader of the Khmer Rouge government that ruled Cambodia from 1975 to 1979. He was convicted in 2018 of genocide, crimes against humanity and war crimes and sentenced to life in prison, a sentence reiterated on Thursday.
He appeared in court on Thursday wearing a white trench coat, in a wheelchair, wearing a mask and listening to the proceedings with headphones. Seven judges attended.
Khieu Samphan was the group's titular head of state, but in his trial defense he denied having real decision-making power when the Khmer Rouge imposed a reign of terror to create a utopian agricultural society that resulted in Cambodians dying of executions, Hunger and insufficiency. medical insurance. It was ousted in 1979 due to the invasion of neighboring communist Vietnam, Vietnam.
"Whatever decision you make, I will die in jail," Chosenphan said in his final appeal statement to the court last year. "I will always remember the suffering of the Cambodian people. Seeing me alone in front of you I will die. I am judged on a symbolic level, not my actual actions as an individual."
On appeal, he charged the court with errors in legal process and interpretation, and unfair conduct, raising objections with more than 1,800 points.
But the court noted Thursday that his appeal did not directly challenge the facts of the case presented in court. It rejected nearly all of the arguments made by Josempan, admitted a mistake and overturned its ruling on a small issue. The court said it found the vast majority of Cho Sampan's arguments "unsubstantiated" and that many were "an alternative interpretation of the evidence".
The court announced that its hundreds of pages of verdict would become official when it was published, and ordered that Chosemphan be returned to the purpose-built prison where he was being held. He was arrested in 2007.
Thursday's ruling made little practical difference. Khieu Samphan, 91, was sentenced to life in prison in 2014 for crimes against humanity related to forced transfers and mass disappearances.
His co-defendant Nuon Chea, the Khmer Rouge's No. 2 leader and chief thinker, was twice convicted and sentenced to life in prison. Nuon Chea died in 2019 at the age of 93.
The court's only other sentence was against Kaing Guek Eav, also known as Duch, the commander of the Tuol Sleng prison, where some 16,000 people were tortured before being taken and killed. Duch was convicted of crimes against humanity, murder and torture in 2010 and died in 2020 at the age of 77 while serving a life sentence.
Pol Pot, the true leader of the Khmer Rouge, escaped justice. He died in the jungle in 1998 at the age of 72, while the remnants of his movement were fighting the final battle against a guerrilla war waged after losing power.
The trials of the only other two accused have not yet been completed. Former Khmer Rouge foreign minister Ieng Sally died in 2013, and his wife, former social affairs minister Intiris, was deemed unfit to stand trial for dementia in 2011 and died in 2015.
Four other suspects, mid-level leaders of the Khmer Rouge, escaped prosecution due to disagreements among court jurists.
Heather Ryan, who has worked on the Open Society Justice Initiative court for 15 years, says the court has succeeded in providing a level of accountability.
"The time, money and effort spent to achieve this rather limited goal may be disproportionate to the goal," she said in a video interview from her home in Boulder, Colorado.
But she praised "trials in countries where atrocities are taking place, where people are able to focus and gather information about what's going on in the courts to a certain extent than if the courts were in The Hague or elsewhere." The Hague, the Netherlands, is home to the World Court and the International Criminal Court. .
The court's legacy extends beyond individual convictions, said Craig Etcheson, who researched and wrote about the Khmer Rouge and served as the court's prosecutor's office investigator from 2006 to 2012 director.
"The court has succeeded in striking down the Khmer Rouge's longstanding impunity and showing that while it may take a long time, the law can catch up to those who commit crimes against humanity," he said.