Mummy.io Announces Partnership With Polkastarter As Demo Release Approaches, Here's What We Know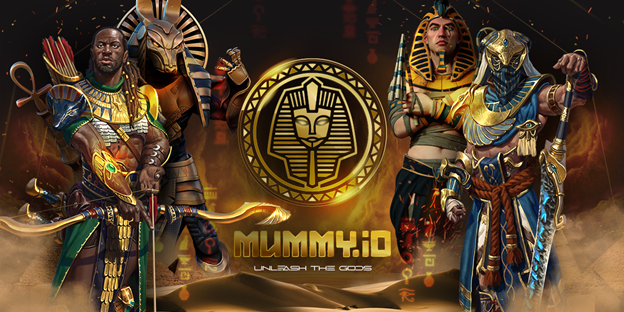 The non-fungible token (NFT) space has been used for innovation across multiple sectors, but it is the gaming and entertainment industry that has reaped the greatest gains. These digital assets allow companies to create new universes and models, connect fans with their favorite artists, or allow players to earn real-world rewards while playing their favorite games.
However, as more people jumped into the Web3 and NFT game, and more and more projects tried to copy-paste others, the industry lost the innovation, creativity, and features that initially attracted users. mummy.io is a blockchain-based massively multiplayer online role-playing game (MMORPG) that aims to change the status quo.
The game will transport players into a rich world based on ancient Egypt, built using Unreal Engine 5, and Mummy.io will be like nothing users have seen before. The main complaint of the NFT game is that it pays very little attention to detail, mechanics and graphics, and Mummy.io will spoil all of that.
According to the project's whitepaper, this is how Mummy.io will revolutionize the industry, and the experience will be similar to games created by major game studios:
Players have unlimited freedom of choice in the game – whether to start side quests, which parts of the world they choose to explore, how they interact with NPCs, and more. The Mummy World is also rich in lore, environmental stories, and intricate relationships between unforgettable NPCs for those who enjoy exploring fantasy worlds in search of hidden meanings and layers.
Mummy.io partners with Polkastarter to reach milestone of ultimate goal
Mummy.io was created by a team from major companies like Square Enix and Ubisoft with decades of gaming industry experience, hoping to bring back the joy of blockchain and NFT gaming. In this sense, they have partnered with Web3 launchpad and accelerator company Polkastarter Gaming, who will act as a consultant during the development of the project.
The partners have a common vision: Web3 games should be as fun as traditional games, and their collaboration will make it happen. Polkastarter hopes to pave the way for the future of gaming starting today.
In addition to Mummy.io, the company has partnered with industry-renowned projects such as BK Time, Mecha Morphung, Wasted Lands, Cyball, Mobland, Wonderhere, Undead Blocks, Aether Games, and more. The Mummy team added the following to the project vision, which they shared with their recent partners:
Our goal is to be at the forefront of innovation in the gaming industry. We are excited about the long and challenging journey ahead and passionate about the process of bringing our vision to life.
Standing out in a crowded industry, Mummy.io breaks the rules
In addition to beautiful graphics, a rich universe, RPG elements, and advanced combat mechanics, Mummy.io will introduce an in-game economy designed to incentivize players to collect loot and build a community of friends and factions rooted in intricate relationships.
Additionally, Mummy.io is partnering with Machinations.io to create and deliver a unique in-game economy for players. The game will integrate with Machinations' game economy health monitoring service to mitigate any issues that may arise with the Mummy.io economy.
The first demo version of the game, "Battle of Ankahu the Fallen" will be available soon for players who want to experience Mummy.io.Currently, players can Connect their crypto wallet And be whitelisted for the project's Stela NFT airdrop and get a shard of an in-game item called the Tear of Aaru artifact.
See the demo "Battle of the Fallen Ankahu" below for more information. The demo will be divided into chapters, each containing a Stela NFT. If a player acquires 3 of these digital assets, they will complete the "Tear of Aru" artifact.