A woman's death fuels a nation's rage: Iran erupts over 22-year-old who died after hijab arrest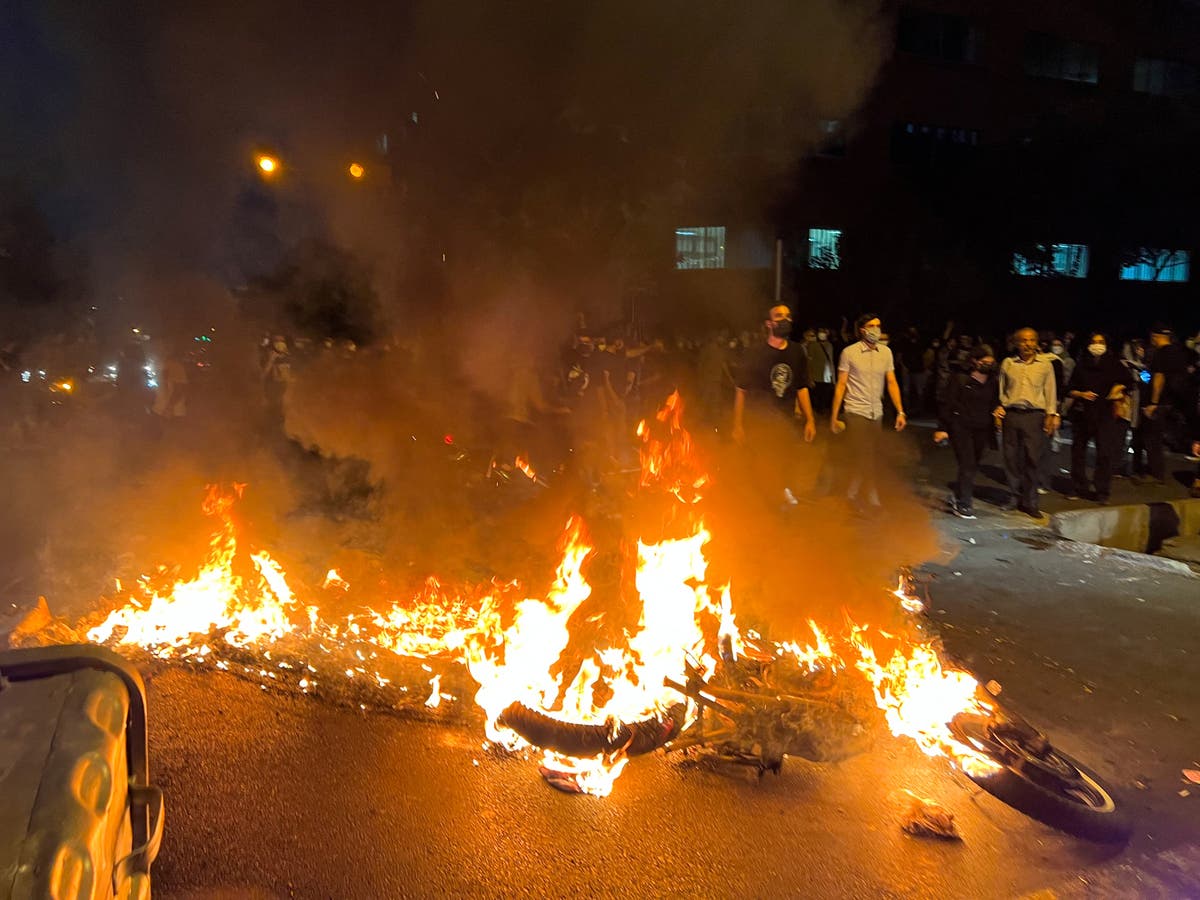 Last week, the death of a 22-year-old woman who was detained by Iran's morality police for allegedly not wearing an appropriate Islamic hijab sparked a wave of protests across the country.
Domestic political unrest and an outburst of anti-government anger over Mahsa Amini's death coincided with the start of President Ebrahim Raisi's arrival in New York for a summit of the UN General Assembly.
A fifth day of protests over Amini's death erupted on Tuesday, with few signs of anger waning. Protests were reported in several cities including Qazvin, Arak and Mashhad. Protests also took place in the capital Tehran. A reformist news site published an interview with the victim's father, providing new details about her detention by ethics enforcement officers and raising disturbing questions about her death.
"When we went to the hospital, they didn't let us see Massa," Amjad Amini told the reformist website Ruida 24"They covered her entire body so we couldn't see the bruises. I could only see my daughter's face and the soles of her feet. But of course, I could see the bruises on Martha's feet."
Protests over Amini's death also swept through the western Kurdish provinces, from which Kurdish Amini came. Demonstrators chanted against Supreme Leader Ali Khamenei and tore down Islamic Republic flags and emblems.
Despite apparent bandwidth constraints in some areas, there have been reports of dramatic violence and chaos, often recorded in short, shaky video clips uploaded to the internet.
In one video, Iranian women can be seen and heard clapping and chanting peacefully until a motorcycle, possibly driven by regime enforcers, sparks panic and screams as the women run. In another clip, a commander used a megaphone to warn protesters to disperse as dozens of black-clad riot police gathered around a police car to clear people.
A video from western Iran on Tuesday showed a seemingly lifeless child being hastily carried away by protesters after one was allegedly shot dead by security forces.
Iranian security forces have tried to suppress the demonstrations with tear gas, water cannons and riot police, and have dispatched pro-regime paramilitaries to protesters, who have sometimes responded with rocks and burning police cars. Video showed protesters throwing stones at fleeing police officers and plainclothes Baski, a willing paramilitary militia.
"I'm going to kill, I'm going to kill, the one who killed my sister," they chanted. "Death to the Islamic Republic."
At least two people were killed, according to unofficial reports.Authorities downplayed the protests, claiming they were exaggerated and intensified by foreign media outlets, including Farsi-language services BBC.
Analysts said it was too early to assess whether the protests would threaten the stability of the regime. Authorities used violence and arrests to suppress protest movements in 1999, 2009 and 2019, as well as sporadic labor, student, racial and regional unrest in recent years.
Although protests in recent years have focused on specific economic grievances, the focus on the hijab issue and the role of security forces in the systematic harassment of Iranian women have made the protests different in nature, with women taking the lead.
"The hijab issue has sparked a wildfire, with most protests led by students and women," said Ali Fasora-Nejad, an expert on Iranian domestic politics at the American German Council. "It's not caused by socioeconomic degradation. It's caused by sociocultural dissatisfaction."
The protests have been characterized by solidarity among often-confronting groups, with men filling protest ranks led by women and urban elites expressing support for the Kurds, who are often seen as underclass in Iran.
Still, analysts admit that the protests are still too small and dispersed to challenge the regime, which has yet to deploy deep security forces.
"The regime will respond with an iron fist and they may succeed in crushing that," Mr Fatullah-Ahmadinejad said. "As with these protests, there is no organization or leadership, which is preventing them from being a threat."
This latest wave of street protests began on September 13, when Amini was arrested by horrific "guidance patrols" when she was visiting Tehran from her hometown, the Kurdish enclave of Sahez. According to her father, she was with her 16-year-old brother when she was approached by the ethics police as she exited the subway station. She pleaded with police not to separate her from her brother, but they refused.
Mr Amini told Ruida 24 She had a physical altercation while arguing in the street. "One of the officers pushed Martha and physically attacked her," he reportedly said. Other women who were later placed in the police car allegedly told him that Massa was attacked by security forces.
She was reportedly rushed to a hospital on September 15 after collapsing at the Vozara detention centre, which deals with suspected moral crimes in Tehran.
News of her death sparked protests outside the hospital and spread across the country. Analysts said the death of the Iranian resonated because Amini was not a political activist or journalist — just a young woman living her own life. In that sense, some have likened the death and the ensuing uproar to the case of George Floyd, the black man who died at the hands of U.S. police in 2020, causing unrest across the country.
"It's about her being a young woman and a completely ordinary person," said Azadeh Pourzand, an Iranian researcher at the School of Oriental and Asian Studies in London and a former Tehran resident. "Every one of us has been to Vozara at least once. Every Iranian woman in Tehran has been brought to Vozara because of the veil. So that resonated with a lot of people."
Senior Iranian officials have called for an investigation into the young woman's death, but have also claimed she fell on her own, possibly due to a congenital disorder, a claim her father has rejected.
The family's outspokenness was also unusual, and may have contributed to the gelling of the movement around Amini's career. Often, regime officials threaten or encourage victims' families to keep them silent. The Amini family refused to succumb to pressure to remain silent, while also showing political savvy by talking to domestic media rather than foreign satellite channels.
"They said Martha had heart disease and epilepsy, and I was her father and raised her for 22 years, and I said loudly that Martha had no disease and was very healthy," Mr Amini told Ruida 24"Those who beat my daughter should be judged. I will not let my daughter's blood be trampled on."
Mr Raisi, who has admitted a role in the mass executions of thousands of political prisoners in the late 1980s, is already a controversial figure in the West and has often been shunned in international forums. Although he plans to meet with EU officials on the sidelines of the UN General Assembly this month, the latest unrest could boost his reputation.
"If a meeting between Raisi and any Western leader is considered, it will make it less of a priority and he will become more harmful," said Aniseh Bassiri Tabrizi of the Royal United Services Institute. "The protests will hinder Iran. Contacts or bilateral relations with European leaders."
Some Iranian activists have urged the West to take a tougher stance on Iran over Amini's death. Both the White House and the U.S. State Department issued condemnations. Many are outraged that Mr Lacey will appear at the UN, while others have called for an end to talks to revive the Joint Comprehensive Plan of Action (JCPOA), a nuclear deal that would ease sanctions on Iran in exchange for curbs on its atomic technology Program.
"They are murderers – you can't sit at the table and negotiate and talk to them," Darya Safai, a member of the Belgian parliament, said in an interview. "JCPOA and talking to ayatollahs is impossible. We cannot give them the tools to survive."
Ms Tabrizi said she suspected the killings or the ensuing riots would affect efforts to restore the JCPOA, which appeared to be in trouble anyway. In any case, Iranians probably won't look to international help for help.
"The beauty of Iran today is that women don't wait for a savior," Ms Pourzand said. "They know very well that they are on their own and have to control their own destiny."