'Islamophobia Is Equal to Anti-Semitism as a Crime Against Humanity'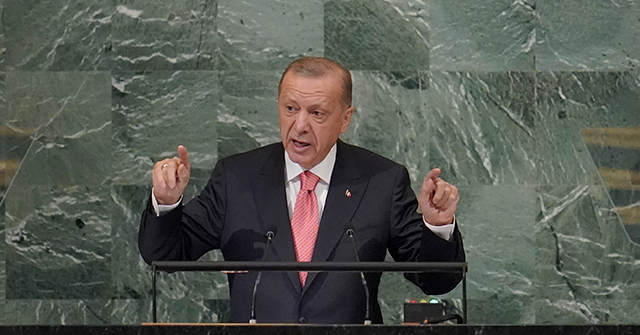 Turkish President Recep Tayyip Erdogan's speech at the 77th United Nations General Assembly in New York City on Tuesday was mainly for his argument that almost all problems can be solved through "dialogue", and Turkey's concerns about the Middle East Every dialogue with Asia is indispensable.
Erdogan declared Islamophobia "equated with anti-Semitism and a crime against humanity" and called for an annual UN-sanctioned 2019 anniversary of the deadly attack on two mosques in Christchurch, New Zealand. "Fighting Islamophobia" Day.
Erdogan has spoken at length about the importance of diplomacy and the contribution it can make to various debates at the United Nations, particularly Turkey's pivotal position in relations between Europe, Asia and the Middle East.
"We're Asians on the west coast of Europe," he said of Turkey's role in everything from the Syrian civil war, the ongoing crisis to a fractured Libya and the Iran nuclear deal.
As the Turkish president has pointed out, his country has been embroiled in the Syrian civil war and its humanitarian consequences from the very beginning, and to this day he hosts a large number of Syrian refugees — 4 million by his count.
Erdogan has called for a "peaceful resolution" to the decade-long conflict in Syria and urged the United Nations to provide more assistance for the repatriation of Syrian refugees. He touted Turkey's efforts to help them get home by building thousands of homes on Syrian land currently under Turkish and allied control, holding up a photo of a rather drab residential complex and boasting that another 200,000 homes were on the way. under construction. It was one of several awkward moments when Erdogan held up a photo to make his point.
"Irregular migrants, the refugee crisis, cannot be solved by letting them die, building walls at the border, collecting them in camps," he said, though his photos suggest he is effectively "solving" the Syrian refugee crisis by moving them to the slightly better built refugee camps in Syria instead of Turkey.
Erdogan called for more "diplomacy and dialogue" to address Iran's quest for nuclear weapons, the suffering of the Afghan people, political instability in Libya, the long struggle between India and Pakistan for control of Kashmir and the territorial dispute between Azerbaijan and Azerbaijan. ARMENIA – Although in the latter case he is very firmly on the side of "our Azerbaijani brothers and sisters", paying tribute to their struggle "to liberate the occupied lands once and for all".
Erdogan's zeal to resolve all disputes through diplomacy has some obvious limitations. Most notably, he delivered a vicious critique of Greece, denouncing its government as a "tyrant" and accusing its refusal to accept immigrants as a "crime against humanity".
"Unfortunately, Greece is expelling these refugees illegally, turning the Aegean Sea into a refugee cemetery," he declared, holding up two photos of drowning children and accusing the Greek coastguard of sinking the boat.
Erdogan later returned to Greece again in a speech when he angrily defended Turkey's interests on the divided island of Cyprus and accused the Greeks of violating Turkey's territorial rights in the Aegean Sea and the eastern Mediterranean.
"We will never give in to other countries' escalation strategies," he declared, calling for UN intervention in Greece.
The Turkish president also expressed no interest in negotiating with the PKK, a radical Kurdish separatist group he accuses of having tentacles entangled with every Kurdish armed force in the Middle East, including U.S.-backed allies against ISIS .
Erdogan defiantly insisted that Turkey has every right to bomb the PKK and its supposed allies wherever they are found, including sovereign territories in Syria and Iraq. He described the PKK as a chameleon terror group that "keeps changing its name" to trick sympathetic Western powers into arming and financially supporting it.
Erdogan also slammed the "descendants" of the PKK and other "terrorist groups" for "abusing the instability in Iraq" and using Iraqi territory to threaten Turkey's security. He accused the Western world of making a serious mistake by hesitating to accept Turkey's claims against these threat groups.
"We want you to work with us, not with terrorist groups and tyrannical regimes," he said.
Erdogan also doesn't seem to think that the Palestinians need to do more negotiations to get their own independent state from Israel, with East Jerusalem as its capital.
"We must stop illegal settlements in occupied areas by building security for Palestinian lives and goods," he declared.
The Turkish president offered two brief criticisms of his opponents in the Western world, the first of which urged Russia to negotiate an end to its invasion of Ukraine.
"We believe that war will never be won. A fair peace process has no losers," he said, but then called for the restoration of "Ukraine's territorial integrity and sovereignty", which Russian leader Vladimir Putin would surely see is the result of failure.
Erdogan was very proud of Turkey's role in negotiations to export Ukrainian grain to global markets through Russia's blockade of the Black Sea, hailing it as "one of the greatest achievements of the United Nations in recent decades".
In another notable example, Erdogan was very mildly critical of China's mistreatment of Xinjiang's Uighur Muslims, pointing out that they are Turks – their own preferred name for their homeland is "East Turkestan". China is currently carrying out a genocide of Turks in the occupied territories that human rights experts and several free nations, including the United States, agree on.
Erdogan called for "protecting the fundamental rights and freedoms of Muslim Uyghur Turks in a way that never threatens China's territorial integrity and security." The Beijing regime has defended its mistreatment of Uyghurs, claiming they are a security threat and a separatist movement, aligned with the Kurds The Workers' Party's threat to Turkey is on a par.
Although Erdogan spent more time condemning Western countries and their allies in his lengthy speech, and rarely criticized Russia and China, Erdogan insisted that "unity between Turkey and the EU is very important", sending his message to Turkey The 17th anniversary of joining the North Atlantic pays tribute to the Treaty Organization (NATO) and pledges Turkey to cooperate with climate change efforts.